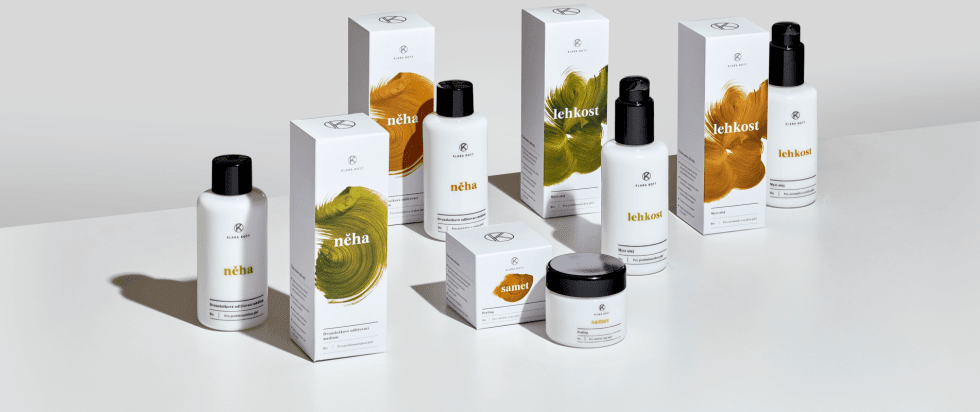 Pure organic cosmetics
without compromise
The purest organic cosmetics in the Czech Republic. Exceptional skin care with the power of natural hydrolates, born in Central Bohemia.
The unique Klara Rott products. which have earned an award as the purest natural cosmetics in the Czech Republic, are based on organic floral waters (known as hydrolates).
But make no mistake: natural certainly does not mean ineffective, especially with Klara Rott. Her own problematic skin and her desire to find a remedy without unnecessary chemistry are at the heart of her cosmetics brand, which she has been developing with determination for 7 years.
The ingredients used at Klara Rott are sourced in a fair way from around the world and are 100% natural and organic wherever possible. Water is replaced with hydrolates and in comparison to other products, their concentration is 50 times stronger and has significantly better effects. Do not expect any preservatives either: the products stay fresh for up to 18 months thanks to a unique combination of herbs, extracts and lactobacilli.
Serums, masks, scrubs, make-up remover oils... all of this is made, tested and packaged in Central Bohemia, which means not only complete control over the entire process, but also a reduced environmental impact. The minimalist packaging design made from sustainable materials also contributes to this.
The bottom line: luxury natural cosmetics from Klara Rott are a good investment – an investment in your skin and your well-being.
Klara Rott products:
· cleansing · tonifying · moisturizing · serums · fluids · masks · hydrolates ·